Posted on
Sunday, April 14, 2013 at 9:36PM
Well it's been a whirlwind few months for my professional life but I am happy to say that I have officially transitioned into a full time consultant! I will be able to spend more time decorating as well as continue designing products on a contract basis. During this transition period I spent a lot of time thinking about home offices and how I wanted to set mine up. Last year I carved out space in our house that I could call my own and it has worked great so far. But with the additional work I'll be doing at home (including sketching and hands on work) I decided to bring in more storage for supplies and rearrange the room a bit.
I generally feel lucky to have a home office in the digital era - I am trying to go as paperless as possible! For those items I do need to have on hand closed storage is the way to go keeping clutter at bay and workflow efficient. I'll upload some pictures of the updated office but for now here are some pictures for inspiration!
This home office color is kept pretty neutral with strong black accents. The versatile desk desk allows seating on either side and a variety of built-in storage. Window seat keeps furniture needs simple and curtain warms up the room with subtle pattern.


Modern Home Office by Minneapolis Interior Designer INVIEW Interior Design

Glossy office is serene with just white and silver. Lots of storage and floating desk allows a spot for visitors to pull up a chair.


Contemporary Home Office by Irvine Interior Designer Nagwa Seif Interior Design

This office is tucked away in a little corner. Built-in storage utilizes a small alcove in room and painted a soft green to coordinate with the wallpaper.

Traditional Home Office by Charleston Interior Designer LORRAINE G VALE, Allied ASID
Great idea for an office turned guest room. Murphy beds tuck away when you don't need them but unfold to provide a full size bed.


Contemporary Home Office by Orange Closets And Organization Tailored Living
If you have a shed or backyard space have you considered an outdoor office? I've seen so many great ideas for modular outdoor offices! Maybe I'll even do a separate post on these...

Contemporary Exterior by Sydney Architect Danny Broe Architect

Simple desk placed in front of window, long wall lined with bookshelves for storage.

Contemporary Home Office by Austin General Contractor Soledad Builders, LLC
Attic space converted to home office - leave some of the beams exposed for architectural detail.
You can pack a lot into a narrow space - try two desks in a row with plenty of storage on the walls above and on either side of the chairs. This is a great setup for a family to do work.
If you can't carve out part of a room try a closet! This simple curtain closes off when not in use. Pretty wallpaper adds some glamour to the space.

Traditional Home Office by Other Metro Media And Blogs iheartorganizing
Maximize unused space such as under the stairs - notice the shelves that fill the corner and the desk with storage.

Contemporary Home Office by Toronto Photographer Leslie Goodwin Photography
Classy home office with curtains, shelves, and floating desk.

Contemporary Home Office by Chicago Interior Designer Chelle Design Group
A very mimial home office with comfortable seating and artwork. This could work if you are very commited to a digital office!
Very warm with lots of wood and soft colors. Credenza provides lots of storage.

Modern Home Office by Los Angeles Photographer Izumi Tanaka Photography
Lots of open storage with shelves and cubbies. Simple black and white color scheme.


Modern Home Office by Miami Interior Designer Causa Design Group
Dramatic home office acheived with dark wallpaper with metallic highlights and light fixtures.

Contemporary Home Office by Saskatoon Interior Designer Atmosphere Interior Design Inc.
Good use of a hutch for storage.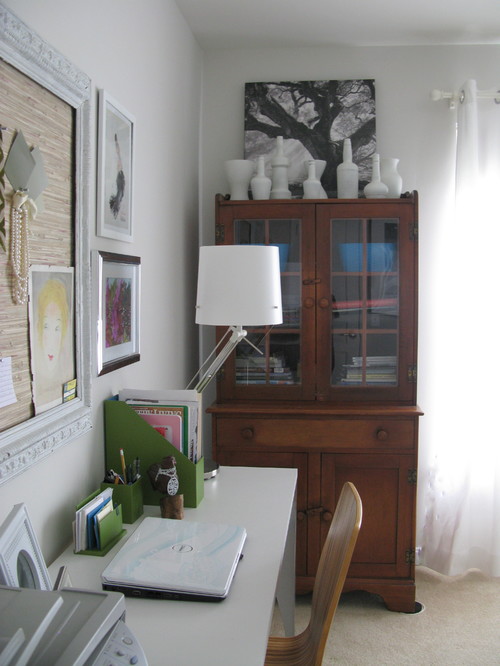 Contemporary Home Office by Philadelphia Interior Designer Shoshana Gosselin
The classic home office in the kitchen. Useful for paying bills and keeping an eye on the activites going on at home. Simple desk with storage and a bulletein board.

Contemporary Kitchen by Boston Interior Designer Terrat Elms Interior Design
Great use of a stair landing, although not ideal for you chair tippers!


Contemporary Home Office by Brooklyn Architect CWB Architects
This printers desk has lots of drawers for storage, woven sisal rug and birch branches create a very rustic and natural feeling room.


Contemporary Home Office by San Francisco Interior Designer Artistic Designs for Living, Tineke Triggs
Again neutral colors create a bold look with black and dark brown against white with pops of natural leafy green. Dont' forget that neutrals are colors too!


Contemporary Home Office by Toronto Interior Designer 3 tok design
A home office with ladder - how fun! Nice linen board for pinning and storage abound.


Home Office
Nice use of a window alcove. The curtains , chairs and pillows really tie the space together.


Eclectic Home Office by Los Angeles Interior Designer Hillary Thomas Designs
Love all the unique touches and color in this office.


Eclectic Home Office by Other Metro Media And Blogs Desire to Inspire
Phew! There are so many pictures to look through, people can be so creative when it comes to how they use their space it was hard to narrow them down. I hope some of these provided inspiration for you and as always, if you'd like help carving out a home office give me a call!
Cheers,
Email us | call 973.944.0188 | like us on Facebook | Follow us on Pinterest | Talk on Twitter