Posted on
Wednesday, March 5, 2014 at 9:28PM
I've seen more and more of these painted rooms lately, where the trim is painted the same as the wall color. You can always make a case for highlighting custom molding in a home by keeping it classic white or differentiating it from the rest of the room. But I really love what this can do for a room too! Especially when it's a darker velvety color that envelopes the room.
(source Southern Living)
DESIGN TIP: It's true that you can paint dark colors in a dark room! When you paint a "light" color in a room that doesn't receive much natural light it actually falls flat instead of brightening it.
(source via Casa de aria)
When you paint the wall and trim the same color it creates a seamless look with subtle texture from the outline of the molding. It adds just enough visual interest while reducing the amount of visual lines and therefore a "broken" or "choppy" look. This type of paint treatment can help in rooms that lead into others, or don't have much wall space.
And as much as I love the dark colors, it works equally as well in other colors too. When the walls and trim are the same color it really creates a strong background for artwork, accessories and furniture to pop!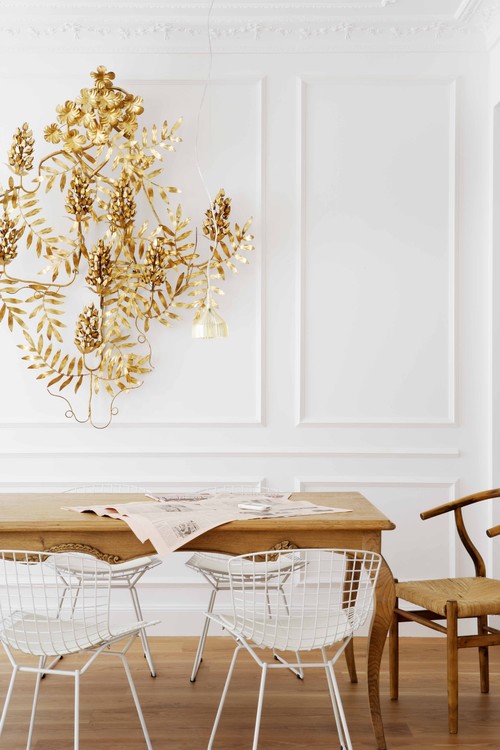 (source BH&G)
(source via CB2)
To push this idea of a seamless room even further I love using curtain panels in the same color too. This lets you add a lot of detail and softens the edges without overwhelming a room.
(source decorpad)
And why stop in just the living areas. If you're looking to add alot of color to your kitchen seamless paint is the way to go.
(source via Pinterest)
So what do you think of this look? Does it create a perfect backdrop, or do you prefer the classic trim color combo?
Cheers,
Send an Email | call 973.944.0188 | like us on Facebook | Follow us on Pinterest | Talk on Twitter
You can sign up for our monthly email newsletter by clicking here!!